Phore Blockchain Enters Partnership Collaboration With World Mobile Telecom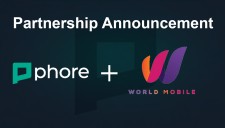 LONDON, December 12, 2018 (Newswire.com) - Phore Blockchain, a leading blockchain platform and ecosystem focused on real-world use, announces a partnership collaboration with World Mobile, the world's first blockchain telecommunications company. 
Phore Blockchain and World Mobile have agreed to work together to develop blockchain-based telecommunication solutions to benefit everyday users with low cost domestic and international calls, which also provide transparency and security. As a benefit, users making payments with the Phore ($PHR) digital currency will enjoy a 10% discount on calls on the World Mobile network over any other traditional or digital currency, or alternatively receive 10% more calling time.
World Mobile has a working product and is well positioned to disrupt the telecommunications industry with this technology.
In addition, Phore SIM cards with worldwide functionality, powered by World Mobile, will be sold on the Phore Decentralized Marketplace. Also, secure P2P telephony services will be brought to both the Phore Wallet and Phore Marketplace, in order to increase functionality and aid transactions between buyers and sellers. 

A limited edition Phore mobile phone is also in early development, which will run on W-OS, World Mobile's operating system. This will be a non-SIM model that eliminates roaming by automatically connecting to the best value operator wherever you are in the world.

Phore Blockchain and World Mobile have identified developing markets in Africa, Asia and Latin America where telecom rates have been kept artificially high, stifling innovation. Both organizations are committed to stimulating significant growth in these areas with World Mobile's network providing high quality, low cost calls and data services, along with Phore's fee-free Decentralized Marketplace to sell their products and services.

"We are delighted to announce this partnership with World Mobile. Other companies promise to build things sometime in the future, but World Mobile already has a working product. They have a solid plan in place that is focused on delivering transparent value to the consumer," said Anthony Alleyne, Co-CEO of Phore Blockchain. He added, "I have been using a World Mobile SIM on my business trips both home and abroad for the last three months, and it's solved consistent problems for me. Now, I'm always connected wherever I am, and I never feel ripped off by mainstream providers. World Mobile is well positioned to disrupt the telecom industry."

World Mobile Chain Founder and CEO, Micky Watkins, added, "The World Mobile team have decades of experience in the telecom industry with companies such as Skype, Deutsche Telecom, BT, Checkpoint and Cronos Group. Working with a pioneer in the cryptocurrency space like Phore Blockchain energizes us to go even further. This will be a highly productive partnership where we utilize our core strengths to deliver real-world products people will want to use, and will provide sustainability for both organizations going forward. We are already looking at introducing attractive solutions for both SME (small and medium-sized enterprises) and larger enterprise sectors alike. By pooling resources with Phore Blockchain, we can build things that are truly astonishing."

About Phore Blockchain: Phore Blockchain enables the transfer of value across an accessible, standardized ecosystem, which is secure, flexible and scalable. The platform supports a variety of applications, ventures and a growing range of capabilities, including reliable and fast transactions that are either transparent or private, rewards for network participation, a decentralized marketplace and Phore Synapse smart contracts. Phore Blockchain also offers custom blockchain technologies and services for B2B clients. Learn more at https://phore.io.

About World Mobile: World Mobile harnesses blockchain technology by streamlining network operations, creating a system that puts privacy and security at the core of everything we do. All interactions with our network are tethered to the blockchain to dramatically reduce network fraud. With lower fraud expenses, we guarantee lower rates to our users. Our trustless network provides complete transparency to our users, allowing them to totally govern what information is shared and who it is shared with. Additionally, all interactions with our network are encrypted, meaning calls, messages and data do not carry the threat that someone might be listening in. Learn more at https://worldmobile.io.

Contact: Jennifer Berg, Head of Marketing
eMail: jenniferb@phore.io

Source: Phore Blockchain

Share:
---
Categories: Business Finance, Investments
Tags: Blockchain, Cryptocurrency, Phore, telecom, telecommunications, World Mobile
---
Phore Blockchain
6.20 World Trade Center (6 Bayside Road)
Gibraltar
GX11
Gibraltar